DiCAPac – Digital Camera Waterproof Case
Maximum compensation is limited to RM100 per case. (Revised Year 2017)
TEST EACH TIME BEFORE USE. DiCAPac Malaysia is NOT responsible for the damage of your mobile phones / devices if the DiCAPac case got flooded.

Warranty policy
1. Description of product: DiCAPac Products.
2. Manufacturer: DiCAPac Co. Ltd
3. Warranty
A. Contents
– Warranty period for products supplied from Dicapac is 1year from the purchase date of the product by end-user. Provided, that the above warranty shall not apply to products that are deemed to have passed too much time from the delivery, under commercial practices.
– Dicapac warrants 100% for defective products.
– For defective digital device (excluding software, accessories, consumable supplies, data stored internally or in connected devices) caused by submergence, which is not caused by user's misuse or defect of the products,
B. Type of defects and clarification.
1) By User's misuse
– Products that do not run pre-waterproof test under the instruction.
– Scratches caused by a sharp thing while using the product.
– Scratches caused by putting a sharp thing in the product.
– Scratches caused by user's carelessness.
2) By Defective Products
– Defects of Velcro sealing.
– Defects of cover (include Velcro cover) sealing.
– Defects of PVC+TPU sealing.
– Defects of PC sealing
– Other defects of sealing not mentioned above.
C. Products under warranty
1) IPX 8 grade (10M, 5M, 3M – 30min)
2) Products that run pre-waterproof test under the instruction.
3) Available temperatures: -20°C ~ 60°C (recommended temp. for use 10 C ~ 40°C)
4. Compensation
A.Small defects that does not cause any damage in digital devices.
– Distributor inspects the product to determine whether it is defective or not.
(Test methods: Appearance test, Air test, Flooding test)
– Distributor ships defective products to Dicapac at six-month intervals.
B. Damaged caused by defects of the digital devices.
– After Distributor tests the products and determined it is defective,
Distirbutor will ship the products to Dicapac via special oversea carrier delivery.
(DHL, FEDEX, EMS) (Defect number shall be marked on the defective goods)
– Upon receipt Dicapac will inspect the defects closely and submit a report to Distributor.
(Test methods: Appearance test, Air test, Hydraulic test)
* Difference between Flooding test and Hydraulic test.
– Flooding test: Check the defects in the water to see any leakage.
– Hydraulic test: Check the defects in the pressure tester for 30 minute.
C. Range for Compensation
– Dicapac will pay shipping charges for defective products.
(Do not ship digital devices itself in first time but mark name on defective products).
– In case of 3-A above, Distributor will compensate the user's digital device and will charge Dicapac for payment.
– If the defective products are clearly evidenced that it has no defects, then,
+ Freight charges: Dicapac 50% / Distributor 50%
+ Compensation for digital devices: Dicapac 50% / Distributor 50%
D. Limitation of compensation
– Maximum compensation is limited to RM100 per case.
– No warrant is made for memory card.
E. Test Result
– Dicapac shall submit the test result report within 7days from the receipt of the defective product.
F. Compensation Methods
– To be determined for defects
———————————-
​​Dear Valued Customers & Dealers,
June is an exciting month for us! We are going to participate again in Malaysia International Dive Expo (MIDE 2014, Booth A122), and meeting all friends and valued dealers from around the world!

If you missed last year MIDE, please come visiting us this year! We like to hear from you on DiCAPac products, and discus on any possible collaboration! After MIDE 2013, DiCAPac has been selling extremely well in Malaysia! We look forward to have more sharing with you on DiCAPac products!

DiCAPac is having a very nice booth at
A122
this year. Attached is the official invitation card and map to our booth.
If you are coming, please drop us an email (contact@dicapacmalaysia.com), we look forward to meeting you soon!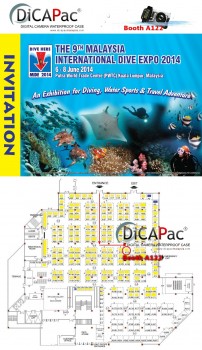 ___________
​Sincerely yours,
​​Dr Koh Kho King
Director
DiCAPac Malaysia
Digital Camera Waterproof Case
www.dicapacmalaysia.com
DiCAPac Featured in The Star Tech News!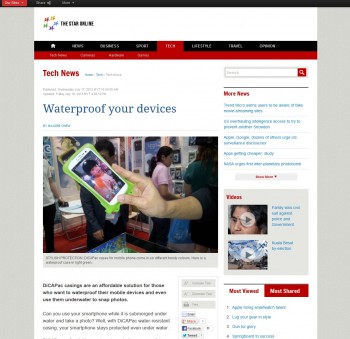 Visit us at:

Booth No: A125, Exhibition Hall 3, Level 3, Putra World Trade Centre, Kuala Lumpur

DiCAPac Malaysia is the official sole distributor of DiCAPac brand and products in Malaysia
DiCAPac PROMISE
All DiCAPac products come with ONE YEAR ONE TO ONE EXCHANGE WARRANTY!
If your camera / phone / iPad…etc. is damaged due to the defect of DiCAPac, we will replace it for you Free of Charge!
What is DiCAPac?
DiCAPac, a waterproof case with word combining Dica and Pac (pack), is a product of DiCAPac Inc. , which seeks first the safety of digital equipment. DiCAPac is a global brand that exports to 35 countries and manufactures in Korea. DiCAPac has various model of products for different digital electronic equipment that cater your needs.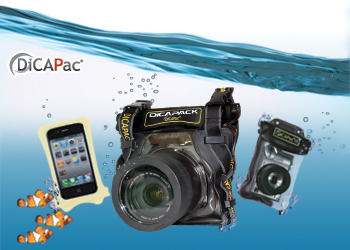 In general, DiCAPac products can be divided into 4 different categories: Digital cameras (Dica Pack), mobile phones (Mobile Pack), camcorders (Cam Pack), and tables (iPad, Galaxy Tab).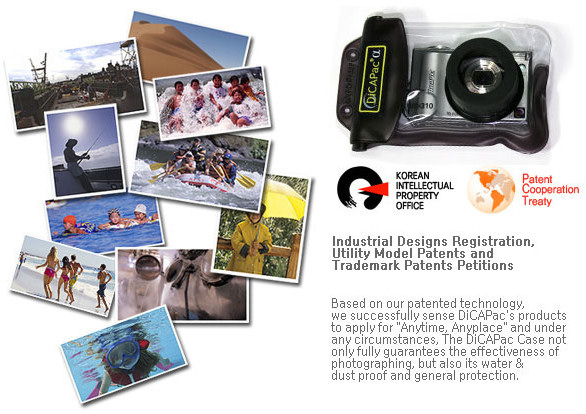 Waterproof Simulation Test
Local : Deepzone Diving Pool 5M Beneath Water (Korea) >> Success!
International : Sapang Beach 18M Beneath Water (Philippines) >> Success!!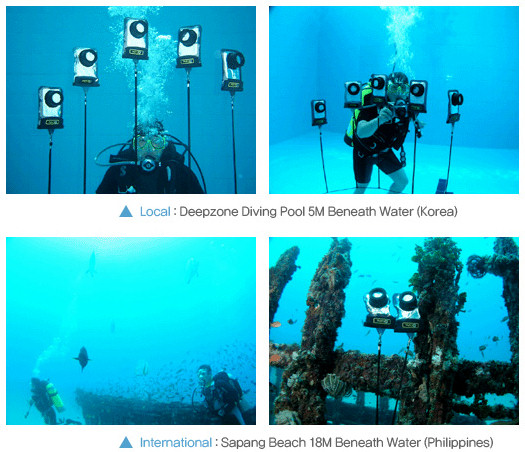 The camera waterproof housing is economical, easy to handle and waterproof.
The test results from two separate test programs (the diving pool and at Sapang Beach), certified the DiCAPac case as absolutely perfect for under water performance.

 All of DiCAPac's products have passed Japan's rigorous JIS IPX8 test and are all waterproof products of grade 8 (the highest grade).
JIS stands for Japan Industrial Standard, an industrial standard system.Grade 1: protected against dripping water for 10 min at 200mm
Grade 2: protected against dripping water when tilted up to 15 degrees for 10 min at 200mm
Grade 3: protected against spraying water for 10 min at 200mm
Grade 4: protected against splashing water for 10 min at 300-600mm
Grade 5: protected against water jets for 3 min at 3m
Grade 6: protected against heavy seas for 30 min at 3m
Grade 7: protected against the effects of immersion for 30 min
Grade 8: protected against submersion (DiCAPac)